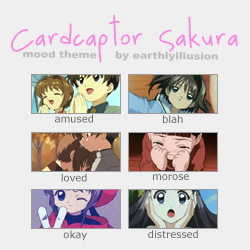 Zip file includes 132 images and Admin Console Codes txt file.
Caps are from
DesertMoon.org
, using images from the TV anime Cardcaptor Sakura (not from the movies, sorry).
You can view the full mood theme
here
. (Just refresh if not all the images show) You can see the theme in action on my LJ.
Zip file links:

http://www.sendspace.com/file/iiwnfc
http://www.megaupload.com/?d=F5OKKF1P
Instructions for uploading the mood theme:
(borrowed from
crackified
and modified slightly by myself)
If you currently have a Basic account, just temporarily switch to a Plus account in order to use the Admin Console. You can swap back afterwards and the mood theme will stay.
1. Download the zip file for the mood theme and unzip it using WinZip or a similar program.
2. Upload the 132 images to a website, either your domain or a image hosting site like my baby,
Photobucket
. Photobucket now allows you to upload your images in one batch, so I definately recommend it. Something else I recommend?
Don't change the file names.
Actually, that's not a recommendation, that's a must.
3. Go to the
LJ admin console
.
4. In the text box paste the following:
moodtheme_create "Title of Theme" "Short Description of Theme"


Of course, replace "Title of Theme" with the theme's title and "Short Description of Theme" with a, yes you guessed it, short description of the theme! Then just press "Execute". If you're successful, the console will give you a number. Copy down this number!
5. Now open the adminconsolecodes.txt file in the zip file. Using the "replace" tool in your notepad program, replace the 12345 number with the number the console gave you previously. Also replace the "
http://www.hosting.com/
" url with the url to the folder that stores the images on your domain, or the photobucket album.
6. Now, paste in the edited codes into the admin console, and click execute. You should be directed to a page with your accepted codes. If not, go back and re-do the steps again.
7. Now go to your
customize
page. If you're using s2 (if you don't know what that means, then you probably are using s2), go to the "Customize Selected Theme" button on the bottom right of the page. There should be a "Mood Theme" section on your new page - underneath it, there is a drop down menu. Use the drop down to find your new theme. Save changes.
If you're using s1, simply scroll down your customize page until you find the "Mood Themes" section. Use the drop down to find your new theme. Save changes.
And you're done! Your theme should now be up on your LJ. Now the only thing you have to do is credit!
Please credit either
cheesytoastor
earthlyillusion in your profile!


Enjoy!